Trade Depot provides several ways to receive the goods you purchased online, in-store or via phone:
You can pick your order up at one of our stores
We deliver small orders up to 20kg via Castle Parcels Courier
We deliver large orders via Mainfreight2Home, Fliway or our independent delivery partners
For Auckland, Waikato and Christchurch deliveries, we also have our vans and trucks delivering straight to the door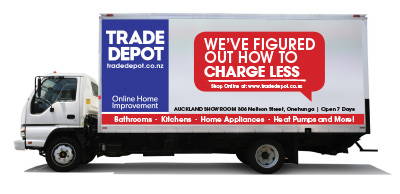 Click & Collect Store Pickups
Our showroom pickups enable you to shop safely online and collect your order from our Auckland, Hamilton or Christchurch store.
Please ensure to collect your pickup order within 5 days from purchase.
For low stock items, we advise to contact us to check if your pickup items are in stock at your selected store.
We reserve the right to charge a stowage fee after 5 days for uncollected in-stock items.
Click & Collect Process
Shop online and place your order. If your order is eligible for the click & collect option you can choose to pick up from our Auckland, Hamilton or Christchurch store.
A confirmation email sent at time of placing the order with further information. If it is an urgent order, please contact us to have this processed asap.
Please collect your order within 5 days.
a) AUCKLAND PICKUP: Please see our staff at the collection counter with your click & collect order reference number.
b) HAMILTON PICKUP: Please see our staff at the collection counter with your click & collect order reference number.
c) CHRISTCHURCH PICKUP: Please collect your items at 75 Main South Rd, Sockburn with your click & collect order reference number. It's just around the corner from our showroom.
If you have any other queries, please don't hesitate to contact our support.
Please note that we have a 5-day pickup policy which means you need to make sure you pick up your order within 5 days of purchase. After 5 days, we charge a daily storage fee of $10 (inc. GST) for each day.
We will only waive the storage fee if your order contains backorder items.
If you find that you can't pick your order up within 5 days and wish to avoid incurring storage fees, we can deliver the order to you. Just call us on 09 636 1111 and arrange for your order to be delivered. Please note that you will be charged for the delivery.
If the delivery option also doesn't work for you, we can put the items back in stock until you're ready to pick them up, however, please note that items may be sold to other customers and go out of stock.
We do our best to deliver to you quickly and cost effectively.
We are unable to accept requests for specific delivery times, or accept liability for consequences of late, or early deliveries.
If nobody is home the carrier will attempt to leave the goods somewhere safe.
Delivery times and days are subject to traffic, driver availability and other issues beyond our reasonable control.
Standard Delivery Service
Please check the delivery times table below for indicative shipping times. Our carriers will endeavour to give you advance notice of the delivery to your address on the day if requested and whenever practical. The driver will be on site for up to 10 minutes at drop off.
Town and Rural Deliveries
In general, large orders are delivered to your specified address whenever possible as a 'door-to-door' service (ie. the items will not be carried into your premises). The carrier will call you in advance to notify you of the envisaged delivery date and time. Please ensure that there is someone present to accept and sign for the delivery.
Please note that deliveries to some rural areas are subject to rural distance and fuel surcharges. While our system tries to present accurate delivery charges, Trade Depot Ltd. reserves the right to charge for additional delivery costs after the order has been placed. Please note that you may be contacted by our customer services in the case when the actual cost to deliver to your address is higher than the estimated checkout delivery charge.
Please note that deliveries of items weighing over 30Kg require you to have 1 suitable unloading person on site able to carry 30Kg in addition to the driver. Our driver will help with placing the items in a safe and sheltered area such as a carport or garage, however, they cannot move items into your premises - please see delivery exclusions below.
Small orders delivered by courier will have a rural delivery surcharge of $5 applied at the checkout when you enter your address.
In some cases a rural delivery may be delivered to your local town courier depot in which case you will be notified by the carrier to pick it up.
Requesting a Delivery Date
Due to our optimised logistics, we cannot offer or guarantee deliveries for a specific date or time. You may request us to not deliver before a certain date but please note that, if we need to store your order for more than 5 days from the date of purchase, you will incur our standard storage fee of $10 (inc. GST) per each day over 5 days. For example, if you bought something today and requested delivery for some time after 5 days, you would incur a storage fee.
Usual Delivery Times
Delivery times depend on the size of your order and destination.
We use a mix of our delivery vehicles and independent delivery partners in Auckland, Hamilton and Christchurch City.
Castle Parcels Couriers for small orders up to 20kg NZ wide.
Mainfreight2Home, Fliway or our independent delivery partners for large orders for the rest of NZ.
South Island orders are generally distributed from our Christchurch Warehouse.
Following delivery times (weekdays) are indicative only:
AVERAGE DELIVERY TIMES*
SMALL ITEMS
LARGE ITEMS
Auckland City
2-6 days
4-10 days
Hamilton / Tauranga City
2-6 days
4-10 days
Wellington City
2-6 days
4-14 days
Rest of North Island
2-6 days
4-14 days
Christchurch City
2-6 days
4-10 days
Dunedin City
2-6 days
4-14 days
Rest of South Island
2-6 days
4-14 days
Rural & Remote Delivery Addresses
ADD 5+ days
Christmas period and public holiday weekends
ADD 5+ days
Weather or other events
Expect delays
*Days, after transaction validated. Please note that we may require additional payment verification for orders over a certain value.
We often deliver quicker, but please do expect delays, to be on the safe side.
Please do not book installers or such, until your items have arrived.
Split Shipments
Depending on stock location and whether your order contains large and small items, we may split the order into multiple shipments via different carriers. Small items are couriered and large items are sent via our carrier partner. Your consignments will be visible on our tracking page.
City Residential Area Deliveries
Delivery to the driveway for city residential areas only. This excludes difficult driveways and unfinished sites, rural areas, multilevel apartments/dwellings etc.
South Island city residential includes Christchurch, Nelson, Dunedin Cities only.
Size of Goods
When ordering large items such as double door fridges or baths, please ensure that these can fit through your main door or entrance. We will not be responsible for the inability to carry your item into your premise.
Goods Inspection on Delivery
IMPORTANT! - All deliveries require a person present to unpack and inspect the delivery and sign for goods received confirming they are in good condition and free from breakages/damage. It is advisable that you immediately open packages and inspect for signs of damage or defect.
If you accept the delivered goods without a person present you will reduce your rights to claim for transport damage or loss. This will not reduce your rights to claim for faults in manufacturing etc.
Please do not sign "undamaged" unless you are delighted with the condition of the items in your order in respect of breakages, damages or defects.
In Case of Damage
Please make sure to check your items for damages BEFORE you sign for them. If this is not possible, please check your items within 24 hours of receipt or ASAP.
If your order has been delivered by our own Trade Depot delivery service, you will be able to arrange a return/replacement on the spot with the driver.
If your order has been delivered by our partner carriers, make sure you state that (some) goods were damaged on the proof of delivery document then please contact our customer service team to lodge a return/replacement claim.
Delivery Exclusions
Please note that standard deliveries exclude special delivery services:
Express deliveries (same day)
Carrying up stairs
Placement within your home
Unpacking & assembly
Box / pallet removal
Installation
More than 10 minutes on site
After hours
All our deliveries will deliver your items door-to-door only as per our standard delivery service. Trade Depot contract drivers (covering Auckland, Hamilton, Christchurch) may be able to offer additional services to help move your items to a safe and secure location on your property provided this can be done safely, without damaging the items, property or persons. This service will need to be negotiated with the driver directly and they may charge an additional fee for this service. Acceptance of these additional services is subject to the customer acknowledging that any issues or damages in this case are the responsibility of the driver and the customer.
We strongly advise customers to arrange their own help to move the order items into the home to avoid frustration at time of delivery.
Delivery Terms
We offer competitive delivery rates on almost all of our items (some exclusions apply). The minimum delivery charge is $7 per order for small items. However, the website may show "freight from" prices that are less than $7. This is because we calculate the combined freight of all small items in the checkout and the final freight will be the greater of $7 or the combined freight cost of all small items.
When you enter your delivery address in the checkout, the final freight charge is calculated based on your order item's price or volume/weight and delivery address. Any current applicable discounts are applied at this stage. You will then see your final freight cost.
Small items do not contribute to the discounted delivery calculations. We frequently send small items out separately so their freight is added to the large item freight for the final freight cost.
Some items do not qualify for discounted delivery. Christchurch / South Island only items do not qualify for discounted delivery to the North Island.
By default, our website shows indicative delivery cost to Auckland addresses. Once you add your delivery address in the checkout, the delivery cost will be calculated based on your address.
Some items on our website are marked as "Freight POA". This is because these items are either too bulky, heavy, fragile or oversized to deliver by courier or truck. In this case you will need to place a click & collect order or contact us to discuss alternative options.
Please note that the delivery estimates on the product details pages may differ from the final delivery charge in the checkout as the freight is calculated to your delivery address and any applicable discounts are applied.
We stand behind our product range and work hard to provide you with affordable quality products. Sometimes, things might not work out for whatever reason, and that's why we offer an easy (change of mind) returns policy (return items within 28 days - must be unused, in re-sellable condition and with their original packaging).
Simply contact us or call 09 636 1111 and let us know that you wish to return your items and we'll get things underway. Please make sure you specify your invoice, sales or order number or TradeMe reference as well as the reason for returning the item.
You will need to pay the freight for returned items, however, contact us and we'll see what we can do to minimise this cost to you.
Returns after 28 days
If you wish to return your item or items after 28 days, the same rules as above apply - items must be unopened and in a new / re-sellable condition and your return will attract a restocking fee of minimum 20% or more of the items price, depending on the time over and above the 28 days.
The restocking fee is determined at the discretion of Trade Depot.
Please note that to claim a return, your item must be in a new / re-sellable condition.
Delivery and Returns Customer Assistance
Phone or email Trade Depot directly as soon as you can. Please make sure you specify your invoice, sales or order number or TradeMe reference as well as the reason for returning the item. Our contact details:
Phone 09 636 1111
Email: Get Support.